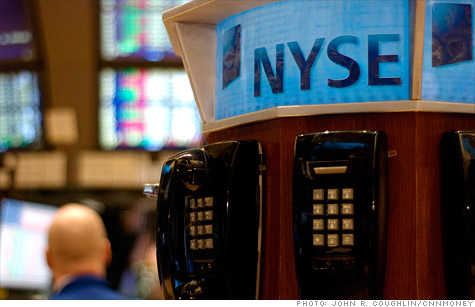 NEW YORK (CNNMoney) — The parent company of the New York Stock Exchange said Wednesday that it plans to end its proposed merger with the parent of the Frankfurt exchange, after European officials blocked the deal.
NYSE Euronext (NYX, Fortune 500) said it will instead repurchase shares, as a way to bolster value to investors once the agreement with Deutsche Boerse is officially terminated.
4PrintComment
"We proposed significant and tangible remedies designed to address the European Commission's concerns with the transaction," NYSE Euronext chairman Jan-Michiel Hessels said in a statement.
But, he added, "we would not agree to any concessions that would undermine or compromise the industrial and economic logic of the proposed combination."
The European Commission said it prohibited the merger on the basis that it would stifled competition by creating a "quasi-monopoly in the area of European financial derivatives traded globally on exchanges."
The EC said the two exchanges already control more than 90% of global trade in European derivatives.
Hessels said he "strongly" disagrees with the EC's decision, noting that it is "based on a fundamentally different understanding of the derivatives market."
Europe's debt crisis: Where things stand
NYSE Euronext said that it planned to resume its $550 million share repurchase program after the release of its fourth quarter and 2011 results on Feb. 10.