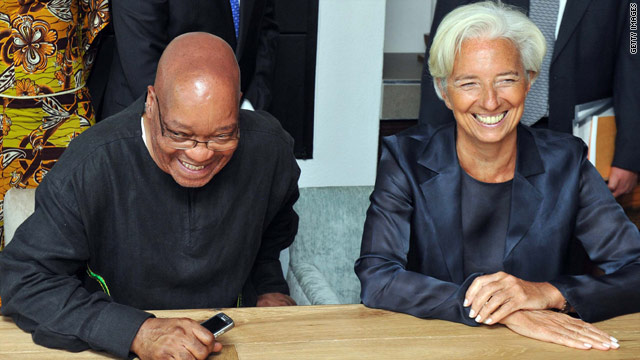 South Africa (CNN) –It was a hot summer day when Christine Lagarde, the head of the International Monetary Fund visited South Africa in early January. However, it appeared that she received a rather chilly welcome from the South African government.
The South Africans, despite knowing about her visit for more than a month, had not scheduled any meetings with the Finance Minister, the Reserve Bank governor or any other key economic advisors. Crucially, no meeting was lined up with President Jacob Zuma.
It seemed that IMF staff were scrambling to pin down the South Africans even after Lagarde had arrived in the country.
In the end, Lagarde had ad hoc meetings in Pretoria with the country's economic teams the morning after she arrived. It is unclear if they apologized, but I understand that one minister told her she visiting at a bad time; most South African government employees were still on their long Christmas holiday and the ruling ANC was holding it's 100th birthday celebrations in Bloemfontein, a four-hour drive away from Pretoria.
The arrival of one of the world's most powerful women in southern Africa was clearly not a priority, it seemed.
At one stage it was suggested she would meet South African president Jacob Zuma the following Wednesday – five days away – and the only time he would be able to fit her into his schedule.
From what I understand, it was becomingly increasingly clear to the IMF folks that Zuma was not going to make the effort to meet Lagarde. She would have to go to him.
When we sat down for a wide-ranging interview in a Pretoria hotel, I asked Lagarde if she had managed to pin down Zuma yet? Lagarde smiled wryly to me and said she would be flying to Bloemfontein to meet Zuma the following day.
Deeply tanned and beautifully groomed in that indomitable French way, Lagarde appeared pragmatic, gracious and seemingly unfazed by this apparent snub.
The reasons for the South Africans lukewarm response to her visit are now more clear. The headline of the Johannesburg-based Business Day newspaper reads, "IMF taps BRICS to fund $1 billion crisis gap."
The article said, "Emerging nations asked to help bail out ailing richer economies."
South Africa is the newest, most controversial member of BRICS, a club of new financial powerhouses originally made up of Brazil, Russia, India and China. South Africa's economy is a minnow compared to their BRIC brothers but the country is Africa's largest economy and seen as a gateway into the continent's lucrative and growing markets.
South Africa likes to think of itself as a global political heavyweight, a player on the multilateral stage and leading member of the South. The crisis in Europe and the U.S. has shifted the balance with the debt-laden North now looking to the emerging market economies for assistance.
This dynamic perhaps explains the cool South African response to Lagarde's trip.
Perhaps the South Africans viewed Lagarde has arriving with a "begging bowl" in hand? She is reportedly looking to expand the IMF's war chest to $500 billion, asking for contributions from emerging economies to help fund possible bailouts.
The tables have turned and the emerging nations are looking to use this new reality to push for more voting power and increased clout in the IMF structures.
No doubt, for Zuma, the image of the IMF head trying to meet him – like a lowly villager looking for an audience with a tribal chief – was just the kind of message he wanted to send.